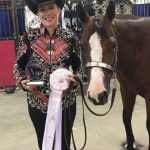 The American Quarter Horse Association, Amarillo, Texas – Partner Heather Lange placed 4th in Showmanship-At-Halter at the 2017 Select American Quarter Horse Association World Championship Show presented by Adequan® (polysulfated glycosaminoglycan) on September 1st in Amarillo.
Heather showed her horse Tell A Rosey Story at the pair's first Select World Championship. Showmanship is a class in which the exhibitor leads the horse through a pre-selected pattern demonstrating the horse's willingness and manners.
The Adequan® Select World is the pinnacle event for American Quarter Horse amateur exhibitors, ages 50 and over, from around the world, who must qualify for the event by earning a predetermined number of points to compete in each of the classes representing halter, English and western disciplines. More than 1,090 entries from the United States, Canada, Costa Rica and Belgium are competing for 44 world championships at this year's event, August 25 – September 2 at the Tri-State Fairgrounds in Amarillo.