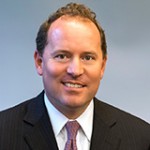 The Southport-based law firm of Brody Wilkinson PC announced that James M. Powers joined the firm as a principal.  Mr. Powers will divide his time practicing in Southport and New Milford, where he has maintained an office since 2003.  Brody Wilkinson will now operate this New Milford office located at 8 Elm Street.
Mr. Powers is a member of the firm's Trusts and Estates and Business Groups.  His trusts and estates practice includes all aspects of estate planning, trust and estate administration, probate and trust litigation, and charitable giving.  In addition, Mr. Powers spends a significant amount of time advising clients who are relocating to Florida permanently or splitting their time between Connecticut and Florida on domicile requirements and other related tax issues.  Drawing upon his prior legal practice in Florida, he brings value, insight and years of first-hand experience to this area of probate and tax law.
Mr. Powers also has an active business practice that includes the areas of commercial transactions, financing, and commercial and residential real estate transactions.  He advises lending institutions and private lenders in commercial loan transactions, and other corporate clients in mergers and acquisitions.  In addition, Mr. Powers represents both businesses and individuals in commercial and residential real estate transactions.
"Since many of Brody Wilkinson's private clients have Florida domicile needs, Jimmy will be able to manage the process of establishing dual residency for them or transitioning them from Connecticut residents to Florida residents.  Moreover, for our clients who become full-time Floridians, he can continue to provide estate planning services to them in Florida," said Brody Wilkinson principal Ronald B. Noren.  "His transactional capabilities will also complement and bolster the firm's Business Group and expand the Group's geographic reach into other areas of Connecticut," Noren added.
Prior to joining Brody Wilkinson, Mr. Powers was a principal of the New Milford-based law firm of Powers, Attorneys At Law, the successor firm to Powers & Powers in Bethel, Connecticut.  After working at two Florida-based law firms earlier in his career, he joined Powers & Powers in 2003 and practiced there until 2015.
Mr. Powers is admitted to practice in Connecticut and Florida.  He is a member of the Connecticut and Florida Bar Associations.  Mr. Powers is also a member and former president of the New Milford Bar Association.
Active in the community, he is a member of both the Danbury Hospital Fundraising and Danbury Hospital/Praxair Cancer Center Golf Tournament Committees.  Mr. Powers is a member of the Board of Directors of Wheels Program of New Milford, and a former chairman and member of the Board of Directors of The Children's Center of New Milford.
He received his B.A. from Rollins College in 1995, his J.D. from Nova Southeastern University School of Law in 1999, and his LL.M. in estate planning from University of Miami School of Law in 2001.
Mr. Powers resides in Weston, Connecticut, with his wife, Kirstin, and their children.