The law firm of Brody Wilkinson PC is pleased to announce that Justin L. Galletti was named a principal of the firm effective November 1, 2016. Mr. Galletti has practiced business and real estate law at Brody Wilkinson since graduating from law school. The firm is also pleased to announce that Alyssa M. Vesco and Samuel R. Volet have recently joined the firm as associates.
Justin L. Galletti is a member of the firm's Business and Real Estate Groups. Mr. Galletti represents a diverse base of clients ranging from individuals and privately held businesses to public companies, real estate developers and financial institutions in general business and real estate transactions. He advises businesses and individuals in the acquisition, sale and financing of commercial real estate and regularly drafts and negotiates leases of retail, office and industrial properties on behalf of commercial landlords and tenants. Mr. Galletti provides advice regarding entity formation, mergers, asset acquisitions and sales, and acts as general counsel to several clients, including by assisting with the preparation and review of supply, service and other contracts and agreements. He also represents institutional and private lenders in connection with loans secured by a variety of collateral, including real and personal property. Mr. Galletti has significant experience drafting, reviewing and negotiating sophisticated endorsement, sponsorship and intellectual property licensing agreements. In addition, he has developed a niche practice representing restaurants and food product businesses integrating his legal capabilities and culinary interests.
Admitted to practice in Connecticut and New York, Mr. Galletti is a member of the American, Connecticut and New York Bar Associations. He is a Martindale-Hubbell AV-rated attorney who was also recognized by "Connecticut Super Lawyers" as a "Rising Star" in the area of business/corporate in 2014, 2015 and 2016. In addition, he was selected for inclusion in Fairfield Living Magazine's "The 200 Outstanding Lawyers of Fairfield County List" in 2016 in the area of business law and was named to the Fairfield County Business Journal's "40 under 40 List" in 2010. Mr. Galletti received his J.D. from the University of Connecticut School of Law in 2005, his B.A., cum laude, from Boston College in 2002, and is a graduate of Fairfield College Preparatory School. Mr. Galletti resides in Darien, Connecticut.
"Throughout his professional development, Justin has demonstrated the qualities we seek in a principal and we look forward to his continued success at the firm. We are also pleased to welcome Alyssa and Sam to our team and wish them equal success," stated principal Thomas J. Walsh, Jr.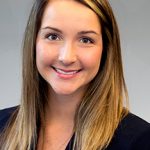 Alyssa M. Vesco is a member of the firm's Trusts & Estates Group. Ms. Vesco practices in the areas of estate planning and trust and estate administration. She is admitted to practice in Connecticut and is a member of the Connecticut and Connecticut Italian American Bar Associations. Ms. Vesco received her J.D. and Tax Concentration, magna cum laude, from Quinnipiac University School of Law in 2016. While in law school, she worked as an intern at institutions such as Floman Depaola, LLC; McGladrey, LLP; The Hartford Financial Services Group; and the New York Supreme Court, Appellate Division, Second Department. In addition, Ms. Vesco served as note editor of the Quinnipiac Law Review, competed on behalf of the Moot Court Society and held various leadership positions, including president of both the Student Bar Association and the Italian American Law Society. She received her B.A. from Quinnipiac University in 2013. Ms. Vesco is active in the community through fundraising efforts for the National Multiple Sclerosis Society. She resides in Stamford, Connecticut.
Samuel R. Volet is a member of the firm's Business and Real Estate Groups. Mr. Volet practices in the areas of general business, commercial lending, commercial and residential real estate, and zoning and land use matters. He is admitted to practice in Connecticut and is a member of the American and Connecticut Bar Associations. Mr. Volet received his J.D., cum laude, from the University of Connecticut School of Law in 2016, which included a Certificate in Energy and Environmental Law. During law school, he was awarded the George M. and Stella K. Hyman Scholarship for excellence in real property law. Upon graduation from law school, Mr. Volet received the L. Stewart Bohan CATIC Foundation Award for outstanding work in the area of real property law. He also received the Urban, State and Local Government Law Award from the American Bar Association for excellence in land use and local government law. Mr. Volet held various intern positions throughout law school at institutions such as Eversource Energy; Connecticut Fund for the Environment; and the Connecticut Office of the Attorney General, Energy Department.
He received his B.A., cum laude, from the University of Connecticut in 2011. Between undergraduate school and law school, he worked in the managing clerk's office at the law firm of Moses & Singer, LLP, in New York, New York, and as an intern for Congressman Bill Owens in Washington, D.C. Mr. Volet resides in Norwalk, Connecticut.